Hikes and walks in Trentino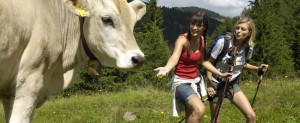 Walks in Trentino amidst our amazing mountainside surroundings!
Sit back and enjoy your vacation in our beautiful valley! Val di Sole is heavenly for lovers of the mountainside and walking enthusiasts. In addition to the typical offers available, such as rafting in Val di Sole, why not try out the mountain bike rides or Nordic walking excursions packed with big and small adventures!
Our mountains rise beyond 3000 meters a.s.l., some even with impressive glaciers; they offer a variety of excursions for mountain hikers and climbers from April to October.
Those of you who prefer to keep fit in a more easygoing style, will really appreciate Nordic walking in Val di Sole. You can choose from routes of various lengths on meadows, along the paths of mountain pastures and in the parks.
.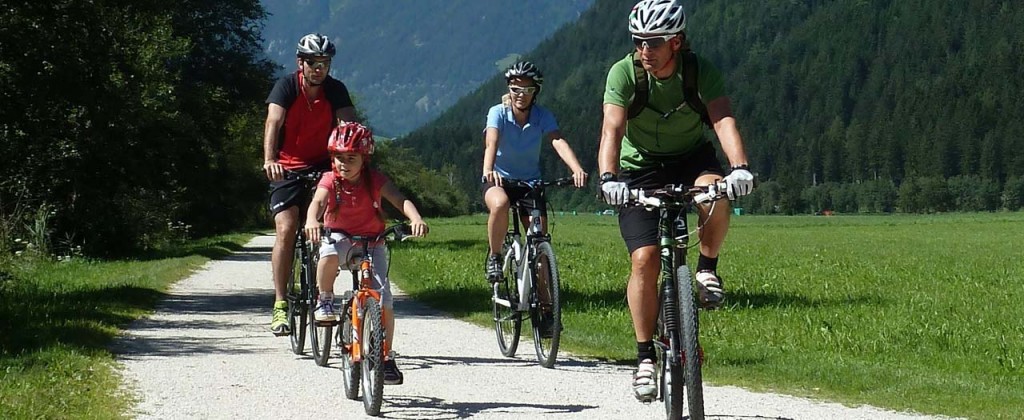 The Val di Sole cycle path runs alongside the river Noce for almost its entire length, tracing the routes of ancient link roads or rural roads.
It covers an elevation difference that ranges from 595 meters a.s.l. at Mostizzolo, to an altitude of 1160 meters at Cogolo, in Val di Peio.
You can choose from a variety of routes and you can take the Dolomiti Express train and the BICI BUS, which are equipped to transport bikes to ingrate the various itineraries. You can hire all types of bikes from the various bike hire shops scattered across the valley.
Mountain Biking in Val di Sole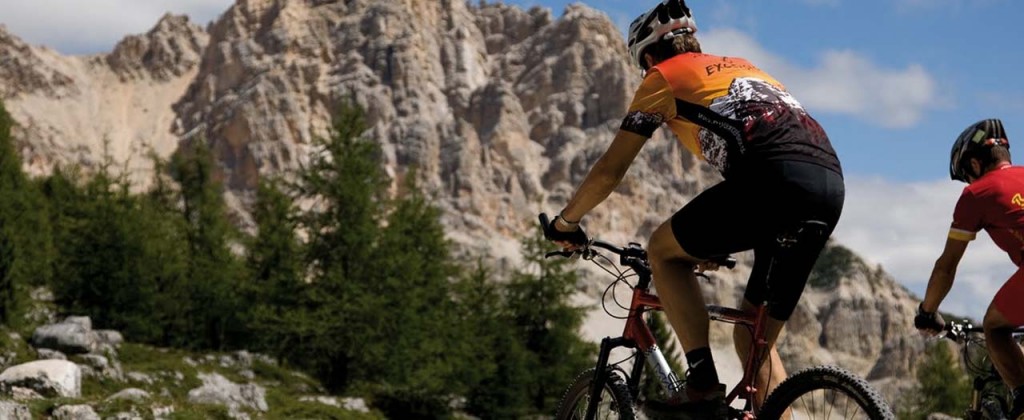 In addition to the wonderful mountain walks, alpine nature enthusiasts can also explore the amazing surroundings of Trentino by mountain bike.
There are numerous tracks and paths along the mountain pastures, of various levels, from easygoing to intensive, to discover the wonderful nature of Trentino.
Venture out to discover the beauty of Val di Sole and take a mountain bike ride on blossoming pasturelands through amazing forests and past ancient farms.
Trentino is the perfect place for mountain bike excursions. You can also find lots of possibilities for long rides along paths from the bottom of the valley to the mountaintops in the nearby Brenta Dolomites.
For families and those looking for a more easygoing ride, we recommend the Val di Sole cycle path, where you can admire postcard views and breathe fresh mountain air.
Rafting and canoeing in Val di Sole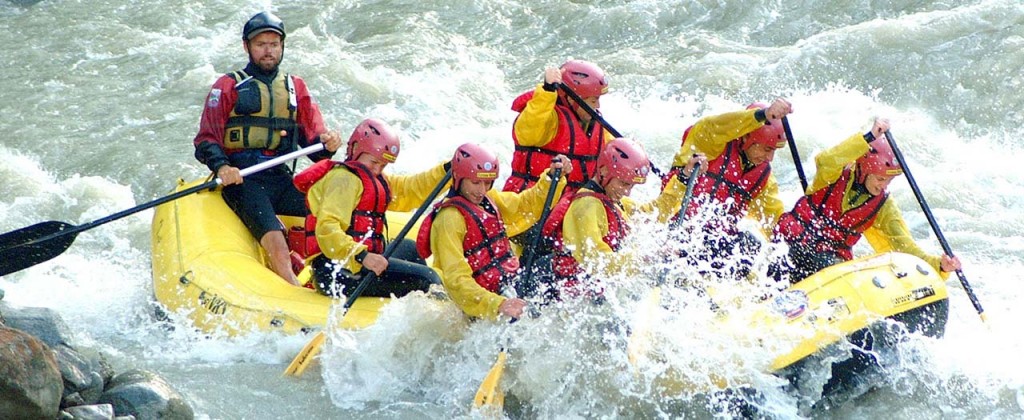 Extreme and emotional sport activities for the whole family. Rafting in Val di Sole, Kayaking, Hydrospeed and Canyoning are the perfect activities in this land rich in rivers, impetuous torrents and beautiful lakes.
In Val di Sole in Trentino, the river Noce has an available course of 28 km, as well as long and continuous falls and is one of the most breathtaking and enthralling rivers for rafting in Trentino.
You can choose from adrenaline rides down the falls or from the less impetuous course, which is just as enjoyable, to fulfil your nature-filled vacation in Trentino.
All the activities are assisted by the experience and proficiency of friendly rafting guides
Ski lifts and slopes in Val di Sole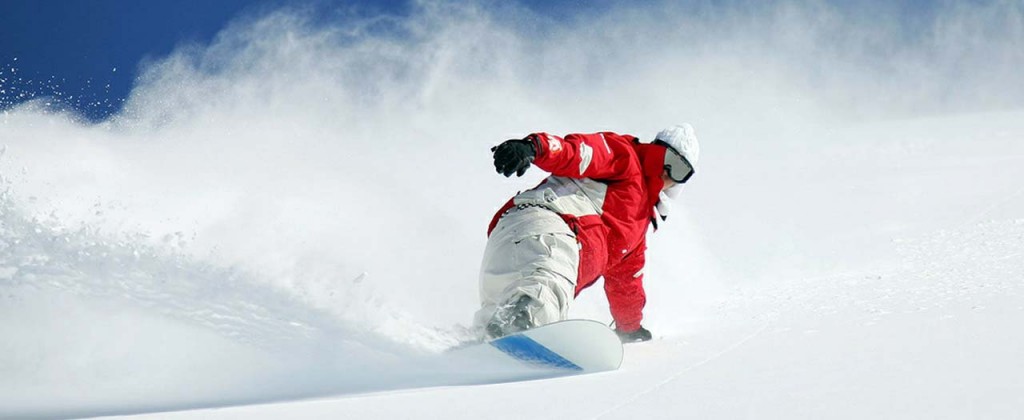 Mezzana-Marilleva is the perfect destination for winter sports enthusiasts. Skiers and snowboarders can put themselves to the test on the 150 kilometres of slopes (without ever taking off their skis or snowboards) in the impressive ski district of Trentino: the Skirama Dolomiti Adamello Brenta that links Folgarida, Marilleva, Madonna di Campiglio and Pinzolo.
At the end of the day, wind down and relax in our wellness hotel in Val di Sole. Swimming pool, sauna, whirlpool, solarium and much more to regenerate your body.
Sweet dreams await you in our rooms and apartments of our hotel near the ski slopes of Marilleva, all tastefully furnished, from which you can enjoy the enviable surrounding views.
Snowshoeing and walking in Val di Sole
Take a stroll to discover breathtaking places and hidden nature corners where you can admire our secret treasures.
Our mountains confer a sense of absolute peace, especially when you admire them on snowshoes. You can choose from walks of all levels of difficulty.
Penetrate the woods on snowshoes to perceive the absolute silence and unique calmness of our breathtaking and enchanted nature covered in layers of white snow. A walk across the snow on snowshoes is always greatly appreciated. Once you grasp the idea, it is easy to walk on the snow to reach interesting destinations, even in winter.
Cross-country skiing in Val di Sole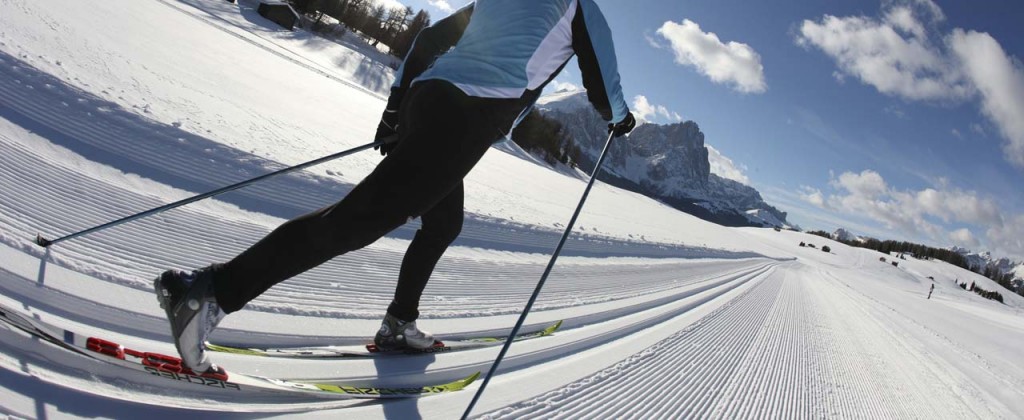 Are you a cross-country skiing enthusiast? Then you have come to the right place at our hotel in Trentino!
Val di Sole is the perfect location for top class winter sports and it offers skiers a one-in-a-lifetime experience amidst woodlands, enormous sloping pastures and rustic farmlands.
In Passo del Tonale, Vermiglio, Cogolo, Ossana, Mezzana, Commezzadura and Rabbi, cross-country skiers will find rings prepared for 55 km and also places for ski waxing, ski hire, changing rooms as well as eating places, ski schools and expert instructors.
Just down the road from our Hotel, the cross-country centre of Mezzana avails of cross-country courses that cover six kilometres, crossing both the town of Pellizzano and Mezzana. In the first section, the course follows the river Noce for approximately 150 meters.